"FREE, FREE, FREE"- Free is in the air…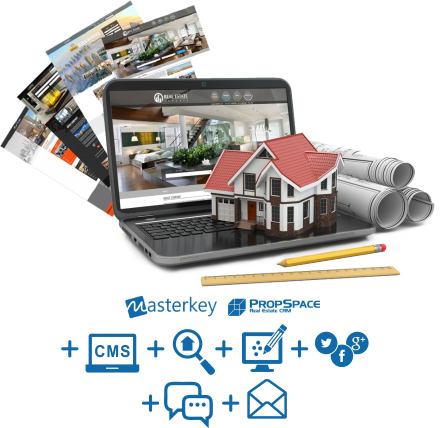 Real Estate Owners, Great News! Unleash the power of the internet and boost your efficiency with our Special Real Estate
Web package.
Trying too hard to find a proper solution for your properties? Why to stress when you can just go for our ready Web package for Real Estates. Get an impressive Website and let the buyers come looking for your properties. This package is custom designed so that your buyers can quickly reach your properties. Just a few clicks and Yey! They are almost there signing the contract.
Stunning website design, smooth functioning and short terms - we can create the best website for you. However, it would not be fair to limit our package just to this. Our offer is beyond that.
Our package includes MASTERKEY or PROP SPACE integration + User-friendly CMS + Advanced search +Modern responsive Design +Social Media + Online chat + News letter subscription
Everything a Real Estate Owner would require is put together in this package. A complete tool to build your brand and target potential clients. The question to ponder your minds would be, is it expensive? No, it is not. Get all this only at 7000 AED. No more getting robbed. We do not encourage any hidden charges, you only have to pay for the services you avail.
| | |
| --- | --- |
| Get professional every way. From branding your company to high quality customer service, you get it all. Happy customers, happy you! Leave no stones unturned on satisfying your Сustomers, get an easy-to-use high-tech website that can serve better than your business card. | |
Leave an everlasting impression that will bid them to trust you. It is not just about online presence, it is about an optimized online presence. We do it the professional way.
A full-fledged professional website.

The website is integrated with one the most popular property management systems in the Middle East - Master Key or Prop Space. These are popular among Real Estates products which quickly optimize workflow. Both systems are efficient in optimizing and facilitating business processes.

Advanced property search

This feature will allow clients to search your properties quickly and easily. We optimize search in a way that your properties become an easy-to-find to the relevant audience. Within a matter few clicks they are right there.

Responsive design and pleasant navigation experience

We provide responsive design for optimal viewing and pleasant navigation, irrespective of the device you are working on. This feature has been extremely taken care of, as most of us use smartphones at present times. On all devices your navigation tools perform flawlessly and website quality is not compromised.

Online chat

It is the most trending feature that cannot be missed out. It describes how much willing you are to help your clients. It builds a confidence in them that you can always be reached at their convenience.

Social Media connection buttons

The most happening internet platforms in this digital era is called "The Social Media". All the leading brands have their professional pages in the Social media.We provide your brand with required social media support and also, we equip your website with direct linkups to social media, namely the social media buttons. Connect with billions of people using social media platforms with the social media buttons
Why to choose our package?
By choosing it, you get:
0ur service charges are very low and transparent. You only pay for what you get. Futhermore, call us now and
get hosting platform for 3 months, absolutely FREE!
All of this only at 7000 AED, which otherwise would have costed you much more. Limited offer, so hurry before it gets out of hand.